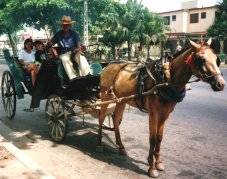 Your Comments!
---
Dear Bruno and John:

I want to thank you for helping us plan such a spectacular trip. Cuba was more beautiful than I could have ever imagined. All of the plane tickets, hotel reservations and transfers worked out very well.

We loved the Parque Central Hotel in Havana. You were right in encouraging
us to stay there. The location is great and rooms so nice and comfortable.
The rooms at the Melia Havana were beautiful, but I think the Parque
Central is in a better location and has more personality.

The landscapes in Vinales are stunning. The beach at Cayo Levisa has clean
white sand and very clear water. We loved it there too.

I can't wait to go back as soon as I can. Thanks you again for all of your
work.

Best regards,
Tamara, NY

---

Well, I've returned safely from my trip, and all in all I had a
wonderful time. Thanks for all your help. Everything went exactly as
planned, and I felt very well prepared for the trip.

Thanks again for everything, and I have a friend who is considering
travel to Cuba--I will definitely recommend your agency.

Jason, MO

---

We had a really good time in Cuba! Thanks! I am ready to go back again.

Steve

---

I'm back. I had good time and lots of fun in Cuba.

The beaches are incredible beautiful and the diving were great! I've never seen colorful and beautiful corals like in Cuba. For sure we'll be back next year.

I like the Arenas Blancas hotel very much, even though we did not enjoy the
hotel itself. We went diving everyday, early in the morning and came back late.

I met three Americans from Florida and I mentioned you (USA Cuba travel) and the trip via Toronto. They go to Cuba every year via Mexico and they told they have had some problems lately. When I mentioned the trip via Toronto they were really interested...

Next year we are planing to go to Youth Island and Varadero.

Thank you
Alda

---

Thanks for all the help!

It was a wonderful, very complicated country, and it made me think about things a lot, which I am grateful for. I have come back nice and morena.

Also, I LOVED Vinales. I took a walk around the area. Stunning. Thanks so
much for recommending it.

Take care!
Yuko

---

Just a short message to thank you for a great trip to Cuba.
I wouldn't hesitate to recommend your service to anyone. It was an
unforgettable experience.

Thanks again for your help and patience with a novice traveler to a
unique country.

Kind regards,
Bruce

---

Thank you very much for your email. I apologize for not getting back to you sooner, but I was out of town...

I also have decided to book with you instead of the other travel agency that I was in contact with. You seem to have a great knowledge of Cuba, you put together a great package for us, and you have been very helpful and enjoyable to do business with thus far.

Thank you again for all your help.

Best Regards,
Sammy

---

Good Morning,

Just wanted to say I think you've done a superb job on this. I will recommend you to the travel community here and promote your services. You have made me feel comfortable selling a market I have never sold before, (I'm not permitted to sell that is).

Looking forward to completing this transaction and more business.

Regards,
Valerie
Travel Agent

---

Thank you very much for arranging for my trip to Cuba.

It was a blast!!! (As usual) I plan to return at the end of October or the beginning of November.

Be on the lookout for my e-mail at this time.

Once again thank you for all your hard work!!

Sincerely,
Victor

---

Just wanted to thank you so much for the assistance for our weekend visit to Havana.

The Parque Central Hotel was indeed first class. The staff was very helpful.
The best tour guide in all Havana was ours-Manual. San Cristobal Viajes provided us with the most informative and best English-speaking guide we could have asked for on the tour of Old Havana.

Thank you, again, for steering us in the right direction about where to stay and how best to see the city.

We'll recommend you to all our friends.

Sincerely,
Ludie and family

---

Wow Great site!
I learned more in one click than any other site.

Regards
Martin

---

Things are settling down now after our return from the trip, return to work, etc..

I wanted to touch base with you to pass on a couple observations and also to
express thanks for your good work and efforts organizing our tour to Cuba.

We did not have enough time there, of course, but we made the most of what we had! The kids enjoyed being in the resort, and our daughter got on very well with the social staff at the hotel. My wife made a contact and was able to deliver the school supplies to a principal of a small school in the country. And she got some Cuban music tapes for teaching her own students.

A few observations:
the location was very good, as you said. Very easy to see the 'real' Cuba in Havana. We did a walking tour of Havana one day, and a bicycle tour of the town adjacent to the resort on another day. Your suggestion regarding this was excellent!
food was very good ... good quality and tons of it.
staff is good. Very amiable. Lots of activities for those who want it. In our little stay we did bicycling, sea kayaking, archery!
Overall I can say we have our curiosity and desire to know Cuba just fueled more. I hope we can return there for 2-3 weeks sometime in the next few years. If so, we will contact you!

Thanks for your hard work organizing this tour.

With best regards,
Rick

---

The trip to Cuba was spectacular!

Me and my companion were very pleased with the arrangements -- the hotel was terrific; the car worked well and got us over 1,000 km through Cuba.

Thank you so much for your help.

We will be referring business to you whenever someone wants help in going to Cuba.

Hasta la vista.
Bob


Updated August 20, 2000
Copyright ©2000 USA CUBA TRAVEL