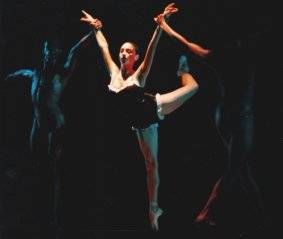 Ballet - Pro Danza
---
The Centro de Promoción de la Danza (PRO DANZA) of Cuba was founded at the end of 1988. The center is directed by the Grand maître Laura Alonso and is an offshoot of the specialized teaching department of the Ballet Nacional de Cuba. The mission of PRO DANZA is, to promote the cuban school of ballet technique.

The specialized teaching department was created in 1985 to satisfy the demands for technical and artistic assistance which the Ballet Nacional de Cuba, as a dance company, could not meet Ultimately, due to its many successes The department changed its structure and reached new goals, becoming, in the process, the Centro Pro Danza of Cuba.

The main objective of PRO DANZA has been to establish a coherent methodology which allows dancers with professional goals to progress gradually from their initiation at the elementary level to their professional lives. They learn the necessary tricks of trade from the center's own scientific teaching system, which promote the Cuban school of ballet.

One of the center's most important programs is Cuballet – a comprehensive and intensive four-five-week course, during which the PRO DANZA system is applied.

The center has held many highly professional Cuballets not only in Cuba itself but also abroad, in countries such as México, Brazil, Argentina, Sweden and the United States.

Advanced, professional training for both foreign students and dance professionals interested in learning the PRO DANZA system is offered throughout the entire year.

Concurrently, the Centro Pro Danza has also developed a vocational school where its ballet technique is taught to amateurs, children and youngsters. At present, there are over one thousand five hundred students in this course.

The Centro also has a research program applied by specialized professionals in the following categories:
Physical efficiency of the dancers
Methodological aspects in the teaching of dancing
Dance as a mean of therapy and rehabilitation

The center has five specialized workshops:
Company Clásico del Centro Pro Danza (classic and contemporary ballet)
Pinos Nuevos (Afro-cuban folklore and popular dances)
Danza Acuática (synchronized swimming and classical technique)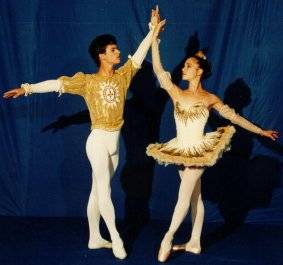 VOCATIONAL SCHOOL OF DANCE
PRO DANZA's Vocational School of Dance offers a program for people of all ages (from four years old and up), including ballet, modern dance, afro-cuban dance, Spanish dance, make-up and acting.
The School has one particular strong point: each year about one thousand five hundred students of all ages take part in these courses in community schools throughout Havana.
Its vocational program has proved most beneficial to students wishing to apply to the National System Schools of the Arts. For others, this course is the most direct way for students to discover various exquisite forms of dance. Others are led to develop a life-long aesthetic appreciation of the arts as a whole.
In the Vocational School, the courses are divided by categories:
Baby Ballet (from four to five years old)
Pre Ballet (from eight to fourteen years old)
Ballet (from eight to fourteen years old)
Adult courses (from sixteen years old on)
The Baby Ballet Program is adapted to the children's age.

The Pre Ballet Program represents a transitional step to preparatory ballet itself and an introduction to the analytic ballet program.

Children of eight years of age are given ballet teaching with two analytic programs according to their own individual needs:
Children meeting established physical standards receive an analytic ballet program lasting six years
Children not meeting established physical standards receive an analytic ballet program lasting eight years
The academic course starts in September, at the same time as that of the other schools in the national system. The offices of the registrar are open prior to the beginning of each term and placement and achievement examinations take place at the end of each semester. At the conclusion of each course, there is a performance during which students are given the opportunity to show what they have learned in class. This way, the students are given a taste of theater and of performing at a professional level and their performance represents the culmination of all that they have learned.


CUBALLET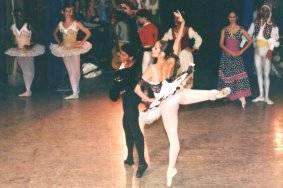 Cuballet is an intensive and comprehensive course lasting four to five weeks which was initiated in 1982 at the Grand Theater de La Havana.
Its main objective is to teach Cuban and foreign dancers the methodology and technique of the Cuban School of Ballet through the teaching system developed by PRO DANZA.
The program dansers includes:
Ballet

Adagio

Folklore
Dances

Modern
Dance

Points

Character
Dances

Spanish
Dances

Body
Conditioning

Variations

Acting

Make-up
The program for teachers includes:
Methodology

Character
Dance

Acting

Psychological & Social
Factors in Dance Teaching

History of
Dance

Modern
Dance

Body
Conditioning

Make-up
In the beginning, CUBALLET took place in Havana only during the summer, but due to high demand coming from the world over, winter editions were also scheduled.
These courses are now given in Argentina, Mexico, Brazil, Sweden and the United States with excellent results, and plans for further expansion are currently being designed.
In addition to developing CUBALLETS's intensive schedule, prima ballerina assolutaAlicia Alonso has given master classes, lending a great deal of prestige to CUBALLETS's program.
During CUBALLET, both concert performances and full-length ballets are on the program. In these performances, all students have the opportunity to dance according to their technical abilities.

PROFESSIONAL TRAINING COURSE
Training along, with practical studies, is required of professional dancers in order to develop their artistic and technical capacities. The Professional Training Course has achieved wonderful results in developing talented young dancers.
This course can be scheduled any time of the year.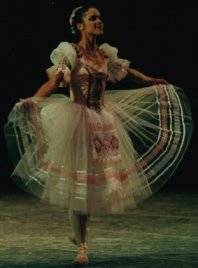 The participants will be submitted to an audition prior to the beginning of the course in order to determine at which level they should be placed. These students will receive training that corresponds to their technical abilities and then they will take part in the performances offered by PRO DANZA.

PRO DANZA IS FOR YOU!
Many dancers from around the world feel it is a privilege to know and experience the techniques and interpretative strengths of the Cuban School of Ballet a school especially equipped to train talented young dancers. You may now join scores of famous dancers and live this truly unique experience by attending Cuba's best school of ballet.
More on Pro Danza and its director, Laura Alonso.


Updated August 20, 2000
Copyright ©2000 USA CUBA TRAVEL