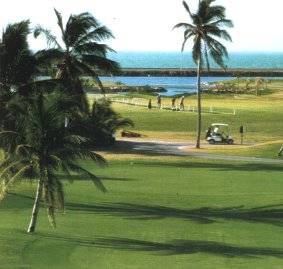 Golf
---
Facilities
The spectacular 18-hole golf course at Varadero has been constructed to meet the highest possible specifications. The course, which is owned and operated by Rumbos of Cuba, has enough charm and character to even satisfy the most avid club golfer. Varadero golf offers easy access and playability for the occasional golfer, and its tournament tees provide a true championship test for both the low-handicap and professional golfer alike.

Five par threes, five par fives and eight par fours form the component parts of its comprehensive and unique design. The par 72 course stretches over 6269 meters (6856 yards) and includes 4 kilometers of cart paths surrounded by 14 hectares of natural lakes.

Each hole has a minimum of 4 tee areas allowing golfers of all abilities to test their skills. Carefully watered from tee to green, course is always a pleasure to play.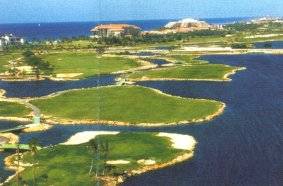 Course designer Les Furber combined three playing characteristics woven into one theme. Offering classically wide, tree-lined fairways and huge open greens that invite players to attack the flag, these facilities have been designed for those who want to practice and improve their every golf shot. Special features include a 300-meter Long-game pratice area comprising a driving range, sloping lies and a fairway bunker with both shallow and steep faces. The Short-game practice area offers one flat and 3 undulating putting greens, a greenside sloping-lie practice area, and 20-to-30 yard chipping green with greenside bunkers.
Setting
This Caribbean oasis of golfing pleasure is set amidst swaying palms and is surrounded by colorful Cuban fauna and flora in such a way as to constantly surprise and delight the eye.
The contrasting shades of emerald green fairways and aquamarine seas provide a view of breathtaking beauty that serenades the senses and calms the spirit.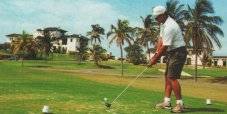 With well-tended greens and impressive fairways, this front-and back-9 golf course is played along the elevated shore line, and is designed to capture the essence of a royal and ancient game.
Lady golfers are more than welcome to test their skills, and we encourage juniors to play the course and take part in our golf classes.
The course is also very well equipped for senior golfers. The 90 degree cart rule, applicable to those using golf buggies, allows the golfer to ride all the way to where the ball lies.
A guaranteed-departure reservation system ensure players that there will be no waiting time at the first tee.
The pro-shop staff includes a starter, marshals, caddies, range personnel, a caddie master, a club professional and a team of instructors.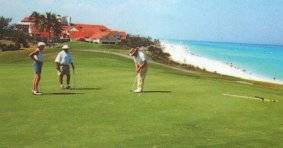 You will never forget sitting on the open air terrace of the 19th Hole Restaurant, overlooking the 18th green, sipping a traditional Cuban cocktail, as the sun sets in a splash of peach and aqua marine.
For Les Furber, the architect of the course, "Varadero is an easy bogey but a difficult par."
Only the best for our golfers
Las Americas Resort provides everything you heart desires:
Tempting tropical fruit
Refreshing juices
A vast array of international cuisine
Italian, Chinese and Cuban restaurants
Wines from all over the worlds
Delicious seafood
A beach-side grill
Indeed, Las Americas Resort offers temptations every step of the way. It's like being at a party that never ends, sharing the emotions of sport during the daytime and relaxing among friends after sunset. Imagine being carried away by fascinating rhythms, enjoying new cocktails, letting yourself go under the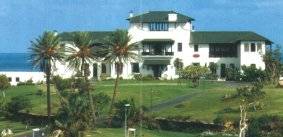 spell of the night, dining with close friends and forgetting about the passing of time. In Cuba you will live just such a magic moments!

Included in our golf package is access to twelve swimming pools and to many kilometers of fine sand on the most beautiful beach in Cuba. You can dine at any of 12 restaurants and imbibe at 17 refreshment bars.

The accommodations provided by resort include 1, 420 rooms, and there is a modern convention and shopping center nearby. What's more, you can enjoy tennis, horseback riding, nautical sports and now the new 18 hole championship golf course.

To learn more about and see pictures of Las Americas Resort.



Updated August 20, 2000
Copyright ©2000 USA CUBA TRAVEL