Welcome
About us
Travel tips
FOR
BOOKING
AND
INFORMATION
Contact us!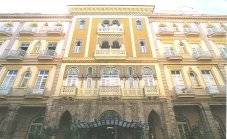 Hotel Sevilla
Open during restoration
---
55 Trocadero entre Zuleto y Prado, La Habana Vieja.

Reservations:
December 15 to May and July 15 to August 30 - 3 weeks in advance
Other Months - 2 weeks in advance

Location:
Close to the historical districts listed by UNESCO and looking onto the Paseo del Prado.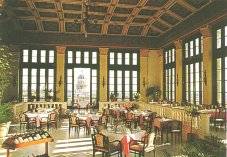 Description:
Built in 1880, the Sevilla Hotel was the city's first luxury establishment. Featuring Moorish architecture, the hotel offers 188 rooms, 2 restaurants and 3 bars.
Accommodations:
188 rooms over 8 floors, including 2 suites with king-sized beds, 8 interlocking rooms with 3 beds, and 6 rooms with a balcony. Each room is equipped with a mini-bar, direct-dial phone, television, personal safety-deposit box,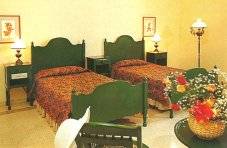 self-adjusted climate control, and a bathroom with hair dryer.
Services:
Outdoor swimming pool including a children's wading pool (closed untill fall 2000) solarium, fitness center, sauna, massage service, table tennis, and billiards. Games room for children. Live entertainment.

Updated August 20, 2000
Copyright ©2000 USA CUBA TRAVEL