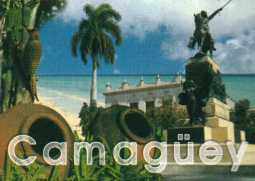 Camagüey - Santa Lucia
Regions of Cuba - Travel Guide
---

Founded in 1514 under the name of Puerto Principe, and the center of nearly 490 years of history, Camagüey is also known as the City of tinajones due to the continuing presence of big clay containers. Years ago, they were used for storing rainwater; today they draw the attention of residents and visitors alike.

After founding a coastal village, the inhabitants decided to go inland as a way of avoiding pirate and corsair attacks. Camagüey was then rebuilt on a huge plain and soon became the chosen settlement for many families attached to their traditions.

Its colonial architecture has survived in the shape of its special roofs, ironworks, huge doors, magnificent patios, squares, churches and alleys. All these attractions have been marked by the various initiatives undertaken during the 19th century war of independence against the Spanish colonial system.

Moreover, Camagüey is the headquarters of the second most important ballet company in the country. It is proud of its cultural traditions and personalities.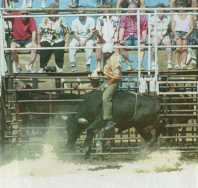 The tourist potential of the province is remarkable since one out of every four kilometers of beach property in the Cuban archipelago can be found in Camagüey.
Speaking of beaches, the city boasts the outstanding presence of a peaceful site turned into a 20-kilometer-long beach, called Santa Lucia. It offers all the charms of nature, whose silence is broken only by the flamingos and seagulls.
Perfectly transparent waters bathe a long strip of soft sand, inviting visitors to swim, indulge in nautical sports, take a walk, fish—marine life is abundant here—or go for a dive.
Offshore we find the largest coral reef in the country and the second largest in the world. Its 36 kilometers make it an exceptional site for diving, and it features abrupt bottoms, tunnels, caves, tubular sponges, black coral, huge gorgonians and wrecked ships now turned into sanctuaries for sea species.
The lure of its waters for those who love underwater exploration is made complete by the variety and abundance of species found in these extraordinary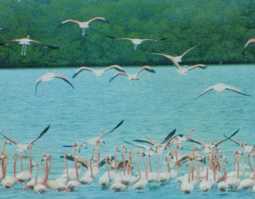 depths: bluetang, parrotfish, painted mackerel, barracudas, and plenty of mollusks.
While staying in Santa Lucia, one can visit Los Cocos Beach, a nearby lake blessed by the presence of flamingos. Another choice is that of simply staying indoors and enjoying a night replete with music and cocktails, for which the area is famous.
Offering abundant natural charms and miles of unspoiled beaches, Cayo Romano stands out among the islets of the Sabana- Camaguëy and Jardines de la Reina archipelagos.


CAMAGUEY - SANTA LUCIA

| | | | |
| --- | --- | --- | --- |
| Packages | Hotels | Day trip & tours | Picture gallery |
| Activities | Museum & galleries | Restaurants | Nightlife |
Updated August 20, 2000
Copyright ©2000 USA CUBA TRAVEL