Sancti Spiritus - Trinidad
Regions of Cuba - Travel Guide
---
Located in central Cuba and bathed by the peaceful waters of the Caribbean Sea, Sancti Spíritus offers a perfect combination of rivers, mountains and forest resting upon fertile clay soil.

The Escambray Mountain Range—one of the most important in Cuba—covers 15 percent of the province. One of the main attractions in the area is Trinidad, regarded as main Cuba's museumtown because it is among the most beautiful colonial sites in the country.

Founded in 1515 under the name of villa de la Santísima Trinidad, it was recently deemed a Human Heritage Jewel by UNESCO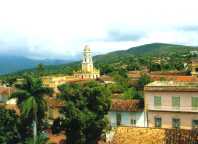 because it features some of the best historical architecture in Latin America.
Trinidad brings together elements from the 18th, 19th and 20th centuries. Tourists will enjoy visiting its artfully created balconies, admirable ironworks, finely-wrought staircases and multicolored facades.
It has a central square called Plaza Mayor where a statue of Terpsichore—the muse of dance—provides inspiration for even the least sensitive among us. The Romantic Museum' located in the Brunet Palace' and the Guamuhaya Museum, displaying elements of the islands aboriginal culture, are not to be missed.
The nearby San Luis Valley, otherwise known as the Valle de los Ingenios, is a living museum of the sugar industry, featuring 75 ruined sugar mills, summer mansions, barracks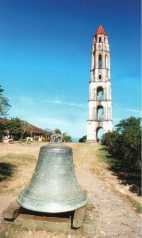 and other facilities related to the field.
This panoply of tourist delights is made complete by the famous Manaca- Iznaga Tower, which was built in 1816. It is 45 meters high, and the toll of its bells once marked the beginning and end of working hours on the sugar plantations.
María Aguilar Beach, near the village, offers warm, shallow waters, as well as ocean floors that are rich in gorgonians, coral, chelonians and fish. Hotel facilities and a diving center provide excellent tourist services on this beach.


Updated August 20, 2000
Copyright ©2000 USA CUBA TRAVEL