Welcome
About us
Travel tips
FOR
BOOKING
AND
INFORMATION
Contact us!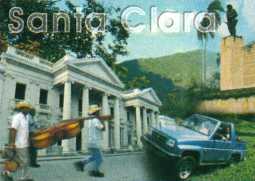 Villa Clara - Santa Clara
Regions of Cuba - Travel Guide
---
Right at the very center of the island, 300 kilometers from Havana, you will find Santa Clara, a modern city of science and industry. Founded in 1689 by residents of a coastal village who had fled from pirate attacks, Santa Clara has integrated its proud traditions into tourist developments.

You can hunt and fish nearby, then visit the only square in the country that features two churches and an image of a pregnant Immaculada Concepción. Also close at hand is Caibarién, a fishing town connected to various keys by means of a charmingly rural road network. The list of attractions is made complete by the presence of Hanabanilla—an artificial lake surrounded by mountains—and its waterfall.

Moreover, those interested in health tourism will be able to bathe in the medicinal mineral waters of Elguera, where a modern facility offers a wide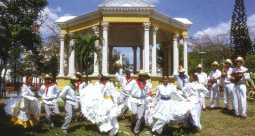 range of therapeutic services, such as thermal baths, mudtherapy, therapeutic massage, heliotherapy, kinetic therapy, electrotherapy, a therapeutical gym, and anti-stress treatments.
Villa Clara is also the home of the Mejunje, a cultural and sports center bar where all kinds of events are held: traditional music, theater, rock music, children's plays, movies and exhibits of graphic arts.
One of the towns in this central province is Remedios, originally one of eight villages founded by the Spaniards on the island. Remedios is famous for its annual parrandas, attended by the whole population, which gathers to celebrate by forming two teams of friendly rivals.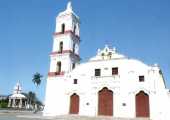 This traditional celebration, created in 1870 by a handful of Spanish businessmen, today reflects the influence of the different cultures brought together as Cuban culture evolved. African people, for instance, contributed the rhythm of their music while the Chinese provided the fireworks. Current investment is targeted to support the development of tourism in the keys, those nearby islets that feature a plethora of unspoiled beaches bathed by clear waters. The first steps toward building up tourism of this kind have already been taken on the Las Brujas and Santa María keys.


VILLA CLARA - SANTA CLARA

| | | | |
| --- | --- | --- | --- |
| Packages | Hotels | Day trip & tours | Picture gallery |
| Activities | Museum & galleries | Restaurants | Nightlife |
Updated August 20, 2000
Copyright ©2000 USA CUBA TRAVEL