Welcome
About us
Travel tips
FOR
BOOKING
AND
INFORMATION
Contact us!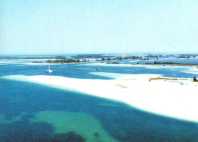 Cayo Largo del sur
Regions of Cuba - Travel Guide
---
Located 177 kilometers from Havana, 170 from Varadero and 550 from Cancun, in the very heart of the Caribbean, the key features 125 kilometers of white sands, a crystalline sea and virgin sea bottoms, full of grottos, barriers and sandy valleys where crustaceans, sponges, coral and fish of all colors and shapes are perfectly visible thanks to the transparency of the surrounding waters.

From the beach (Sirena del Cayo, as Cubans and visitors usually call it) one can access other small keys it and enjoy their numerous attractions: Cayo Rico, a splendid island of green waters and fine sands;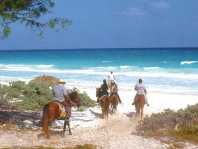 Cayo Iguanas, isolated and rural, inhabited by harmless saurians already on the verge of extinction; Cayo Rosario; Cayo Pájaros, an immense nest of rocks where ocean birds procreate; Cayo Cantiles, inhabited by apes; and Cayo Sigua, among others.
Signs of human life include rented motorcycles, bicycles, mopeds, animal carts, horses and even light planes for air sailing, along with busy ranches, teeming swimming pools, live discos and musical extravaganzas.
Cayo Largo can be reached directly by yacht or private airplane, without a visa, or by means of the daily air connection that unites it with Havana and Varadero.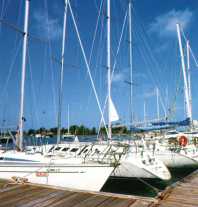 To visit this lovely key is to be transported to a serene, unspoiled past, where a walk along endless sands provides a vista of true beauty, a sight for sore eyes, as well as a revelation of how thousands of turtles lay their eggs on the bank, as if emerging from a storybook. It is to feel that one is the owner of an authentic paradise, where the loudest noise is the sound of the waves or the whisper of the fresh wind. Cayo Largo is simply a temptation you can't afford to resist.


Updated August 20, 2000
Copyright ©2000 USA CUBA TRAVEL