Pinar Del Rio
Regions of Cuba - Travel Guide
---
Pinar del Rio, Cuba's westermost province, is a land of mogotes (round-topped hills), tobacco, valleys surrounded by mountains and an exotic, rich flora and fauna.

It also features the Viñales Valley, a 132-square-kilometer area that has been deemed a National Natural Monument. Its impressive rounded mountains are called mogotes by local residents. They date from as far back as the Jurassic period and are covered with rich and varied vegetation. There are also many caves of great interest to speleologists.
Among them, the Santo Tomás system stands out with its more than 45 kilometers of galleries.
Viñales practically invites visitors to stroll through its confines, observing all the indigenous species in their natural splendor.
Among the attractions of the province—along with some of the best tobacco plantations in the world—are Cueva del Indio, Abra del Ancón, Sierra del Infierno, Valle de las Dos Hermanas, Hoyo de Jaruco and Valle de San Vicente. Caridad's Botanical Garden and Los Acuáticos, a rural community where health problems are treated with restorative waters, are also worth mentioning.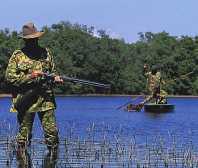 In the Rosario Mountain Range is another of Pinar del Río's attractions, Soroa, which has been declared a Biosphere Reserve due to its splendid natural attibutes. Here, flower aficionados can enjoy Cuba's largest orchid garden where 750 species—250 of them indigenously Cuban—will delight visitors with their colors and smells.
Moreover, Soroa offers the possibility of a enjoying a magnificient lookout, walking among rich vegetation, looking for exotic plants and animals, walking along the Manantiales River and swimming in its medicinal waters or bathing beneath its waterfalls.
In Vueltabajo, tourists can see enormous tobacco plantations and can also do something new since May 1998: they can take the so-called Water Route and bathe in the restorative mineral waters of the area's springs.
Also located in the Rosario Mountain Range, the tourist resort of Las Terrazas provides amazing landscapes, over 800 types of plant and 73 different types of birds within a protected area hosting a wide range of endemic species.
In the surrounding area, you will discover sulfurous water baths, the springs of the San Juan River, the ruins of French coffee plantations and several campsites.
Other attractions include the Maspotón Hunting Lodge, the Laguna Verde Fishing Club and the Maria la Gorda International Diving Center, featuring eight kilometers of fine sandy beaches. This place is named after the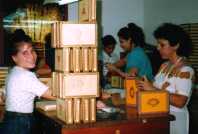 legendary María, a fat woman who was brought from Venezuela by a gang of pirates.
Offshore, a short trip leads tourists to the Levisa and Jutia keys with their amazing variety of peaceful beaches and abundant sites for diving, fishing, and water sports.


Updated August 20, 2000
Copyright ©2000 USA CUBA TRAVEL