Welcome
About us
Travel tips
FOR
BOOKING
AND
INFORMATION
Contact us!

Matanzas - Varadero
Regions of Cuba - Travel Guide
---
Matanzas should be approached by car so you can see the amazing features of its landscape. When you leave behind the Tunnel of Havana, a coastal highway begins, linking the capital with this province only 100 kilometers away.

A first stop is the bridge of Bacunayagua, from which you can enjoy a privileged view of the Yumurí Valley, a 150-meter-high natural amphitheater surrounded by mountains, considered by many to be among the most impressive landscapes in Cuba, bathed as it is by the rivers Yumurí and Bacunayagua. The pleasant climate, abundant vegetation and severe landscape offer a unique setting for the most appropriate way to relax and eliminate the tensions of modern life, by means of programs for the treatment of stress, asthma, obesity, and hypertension, as well as tourist programs especially designed for senior citizens. The city of Matanzas lies next to a bay of calm waters and above undulating hills that cross three rivers. Since its founding in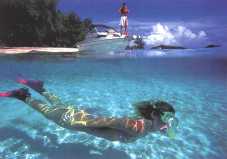 1693, the city has had several nicknames: " Sleeping Beauty", "the Venice of Cuba", for its bridges, and "the Athens of Cuba", since it is a community of poets.
The sugar industry and the city's excellent harbor have fostered intensive trade that has made Matanzas rich and learned. A trip to Matanzas is not complete without a number of important stops: at the Pharmaceutical Museum, the only one of its kind in the Americas; the Sauto Theater (1860); the Palacio de Junco, headquarters of the Historical Museum; the Cuevas de Bellamar, three thousand meters of galleries and halls adorned by stalactites, estalagmites and helictites in capricious horizontal ways; and the Ermita de los Catalanes, with its 12 bridges and attractive squares. The visitor must also check out the city's intense and varied cultural life.
However, perhaps the most famous site in Matanzas is Varadero, the Blue Beach of Cuba, about 2 hours by road from Havana, or a few minutes by air. Green, white and blue are the main components of its beautiful landscape. Internationally known for its transparent seas, where you can walk for meters and meters in soothing shallow waters, it features 23 world-renowned diving areas as well as numerous restaurants, cabarets and nightclubs, bars, facilities for water and land sports, golf courses, and hotels for every taste. Varadero also is the focal point for more than 10 virgin islets and marine floors offering over 40 types of coral, a wide variety of fish, lobsters, shrimp, crabs, sea-tortoises and more than 70 types of mollusks.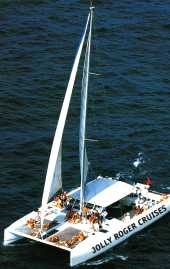 During the 19th century, seamen used to do repairing and caulking on its shores, and thus the beach became known as varadero, from the English careen. These ocean navigators discovered in Varadero a remote, quiet place created by indescribably beautiful beaches.
It was only during the 1950s that new construction projects began to spread, featuring vacation homes built for their owners so that they might rest during extended holiday periods.
Now Varadero is the undisputed tourist capital of Cuba and its most sought-after beach site, featuring almost 20 kilometers of surprising sands and a hotel industry in full development. Of course, we also mustn't forget the nights of color and music and dreams shared over exotic cocktails and first-class seafood, all of which make Varadero a permanent attraction, an invitation to come back, especially since coming back means returning to a beach unlike any other.
But Matanzas is still more. The city of Cárdenas is a place you won't want to miss. Small and peaceful, it was the first town in Cuba to use electricity for public needs and the country's second railroad ran along its streets. Here you will find the first mausoleum erected in honor of the "mambises" (Cuban freedom fighters in the War of Independence), and Cuba's most famous building, La Dominica, today a National Monument, where the Cuban flag was raised for the very first time. A city of horse buggies and bicycles, you can see it all on two wheels and visit its museums or the statue of Christopher Colombus, the first such monument erected on Cuban soil and inaugurated by the great Cuban poetess, Gertrudis Gómez de Avellaneda. Cárdenas is a historical city, full of curiosities and details and smiles.
Montemar Natural Park is another of its worthwhile tourist options. Located on the Zapata Peninsula, it is characterized by endless blue beaches, exotic forests, rivers, lakes, flooded caverns, natural pools, unbeatable sea bottoms, virgin areas, typical marshland savannas, and 30% of Cuba's indigenous fauna, including 171 species of birds, 18 of them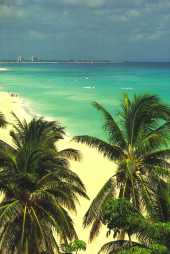 endemic. The park is one of the country's richest zones for ecological tourism, as well as for hiking, bird watching, game photography, all types of scuba diving, trekking, boat rides and other water and land sports.
Here you will find Playa Larga, the geographical center of Montemar, with its 400 meters of warm waters, excellent sands, coral reefs, natural trails and the International Bird Watching Center, a starting point for all sorts of contemplative activities, by day or by night. Also featured are Caleta Buena, a unique formation on the coast, shaped like a small bay; the Salinas de Brito, where in the winter you can observe up to 165 avian species; the Cueva de los Peces, the greatest flooded cave in Cuba; Playa Girón and its International Scuba Diving Center with easily accessible sites located less than 80 meters away, a rich natural environment for hiking and other types of ecotourism; the Criadero de Cocodrilos (Crocodile Farm); and the Guamá Tourist Resort, unique in the Caribbean because it is home to a life-size replica of a Taino village, showing Cuba's first inhabitants carrying out their daily activities. Guamá is located among twelve small islets linked by a system of channels and bridges, in Cuba's largest natural lagoon, a site that is also ideal for fishing and sailing. All these wonders are showcased at the Montemar Natural Park, one of those places that nature has created with a special touch, making it a favorite Caribbean destination. Montemar is green and blue, a world of birds and fish and coral, an ideal destination for those who dream about idyllic places.


Updated August 20, 2000
Copyright ©2000 USA CUBA TRAVEL