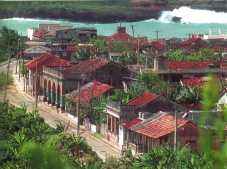 Guantanamo
Regions of Cuba - Travel Guide
---
Guantánamo, Cuba's the easternmost province, is approximately 1,000 kilometers from the nation's capital. Its environment includes everything from near deserts to regions featuring luxuriant mountain vegetation.

Mountains make up almost 99 percent of the Guantánamo's territory. What we have here are rocky and calcinated areas with scarce vegetation and lots of cactuses, as opposed to forests and fields of green sugar cane.

However, the greatest attraction in the province can be found in Nuestra Señora de la Asunción de Baracoa, Cuba's oldest city. Founded by Diego Velásquez in 1512, the community is characterized by the amicable spirit of its citizens and the beauty of a city surrounded by abrupt coastline, luxuriant foliage, mountains and rivers.

The first capital of the island, its name comes from an aboriginal term meaning "existence of the sea", referring to the ubiquitous maritime surroundings and dearth of mountains and rivers.
The city was often raided by pirates and corsairs who burned it down for the last time in 1652. In response, a solid defense system was built, including forts called La Punta, Seboruco and Malachin, as well as the Joa and Caguase towers.
This village was the first on the island to have a parochial church, made doubly attractive because, not far from its entrance, there was a statue of Hatuey, an Indian who became the symbol of rebelliousness'—and because it sheltered the cross brought to Cuban soil by Christopher Columbus in December 1492.
Baracoa is one of the few Cuban villages located close to where Indo-Cubans found refuge in the mountains and managed to survive—to a certain extent. We can actually recognize features inherited from these ancestors in today's village dwellers.
From Baracoa, "Sleeping Beauty"—a mountain resembling a sculpture of a woman lying in the sunshine—can be seen in all its glory. It is next to El Yunque, the most famous peak in the area.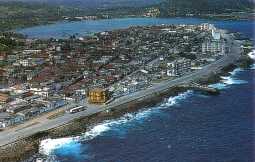 Nearby, Alexander von Humboldt Park plays host to a large number of endemic species; for example, the aboriginal mammal called manatee still lives in its waters and the royal woodpecker can be seen in its forests.
Visitors can also sample some very peculiar foods made from plants, meals such as bacán, composed of green plantain, and canalú, made of tubers. Vegetable and meat soup and fish and coconut milk are two other interesting choices offered on Baracoa's many menus.
The economy of Baracoa is based on coffee and cacao, but the province is looking forward to adding tourist attractions to its list of assets in the near future.


GUANTANAMO

| | | | |
| --- | --- | --- | --- |
| Packages | Hotels | Day trip & tours | Picture gallery |
| Activities | Museum & galleries | Restaurants | Nightlife |
Updated August 20, 2000
Copyright ©2000 USA CUBA TRAVEL